Welcome to N.Y. Tournaments
the home of the most amazing competitions in the world. If you are a martial artist this is the place to compete!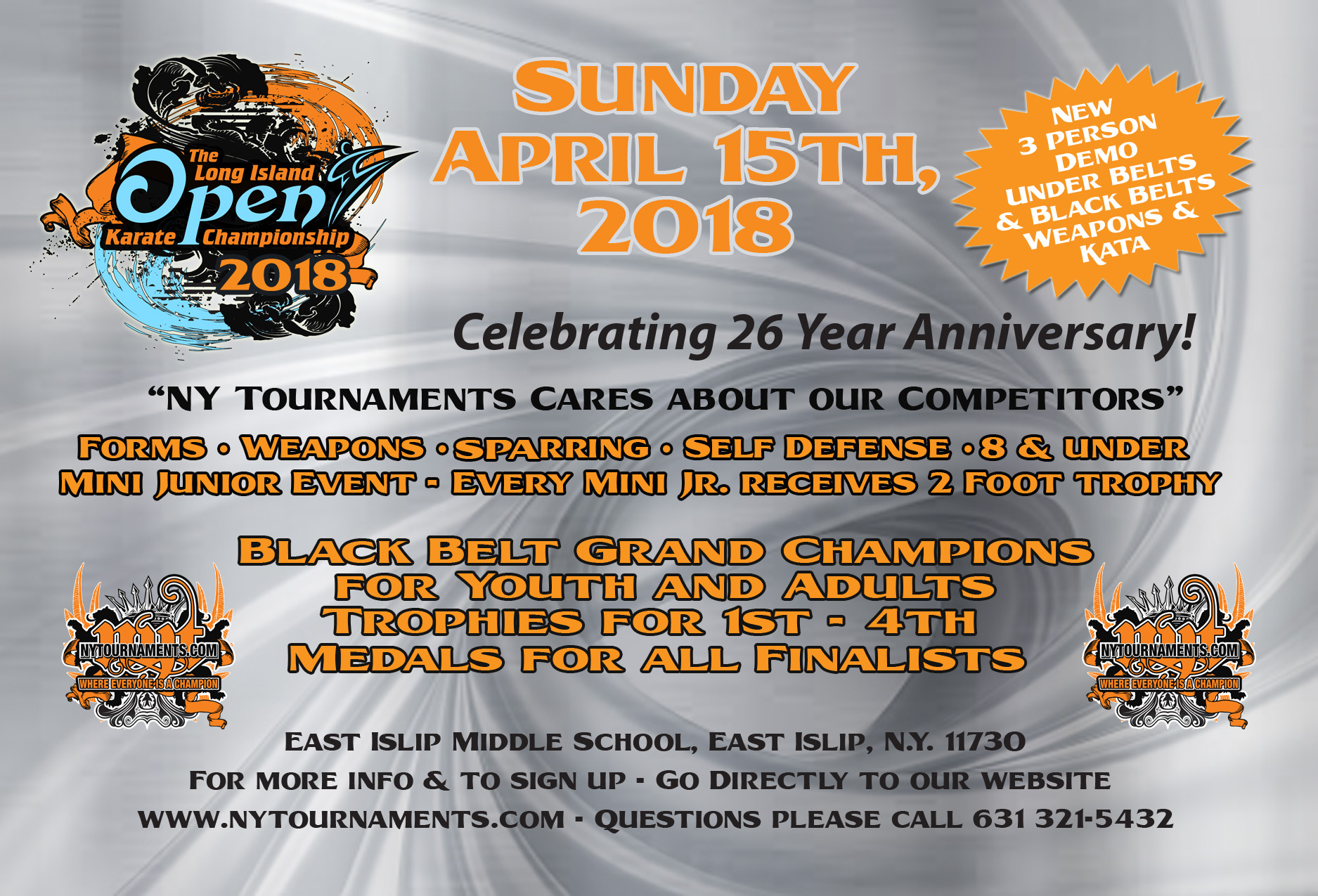 To register for the LI Open Martial Arts Championship!
Go to the registration tab above or click here.
Congratulations to all of our competitors throughout the 2017 Season. We are so proud and honored to have completed yet another amazingly successful tournament season and circuit. We look forward to 2018 and beyond! Please check out our upcoming events page for dates for 2018 as well as checking out our Ratings Page for our winners of our Upcoming Award Banquet.

N.Y Tournaments is committed to the highest quality and prestige of the N.Y. Tournament Circuit. Unfortunately many events are run very unprofessionally, and it tends to tarnish the quality events that are out there.
The good news is after 5 years of running NY Tournaments events, we have changed the perception and outcome of our events. We have been complimented continually on the look, feel, and way the tournament is run, especially the judging and overall professionalism of our events. In fact, over fifty school owners have said we are simply the best.
We received more compliments on the quality of these events then anything. Parents, teachers and students have commented on how organized, clean, and fair our events are run. People have complimented the clean and organized room, the trophy quality, our fully matted facility, our overall look, the judging, and the ease of online registration and day of registration. People love the new Judges and Center Referee shirts. Some parents and instructors said it made knowing who was in charge that much more evident. - No questions, no guessing, no stress.
Hear what others have to say:

"I've been to many tournaments throughout my martial arts study and my one problem is that all these tournaments are NOT organized. I find myself waiting around for days (even weekends!) for my little 10 minutes of actual competition. Then I found NY Tournaments, a group actually dedicated to mixing traditional and open martial arts with modern times. The website is clean and updated, the staff is helpful and informative, and the tournaments are respectable and the best I have every been to. Everything is organized, and although there is a competitive feeling, everyone ends up feeling well-accomplished and happy. I have never seen anything as amazing as NY Tournaments."
Yair Koas, Bo-Black Belt, Tae Kwon Do, USA TaeKwonDo Member, Winner of 2 Silver and 1 Gold at US Metro NYS Open, Winner of 2 Bronze, and 1 Silver at 2012 Yong-In University Championship. Yair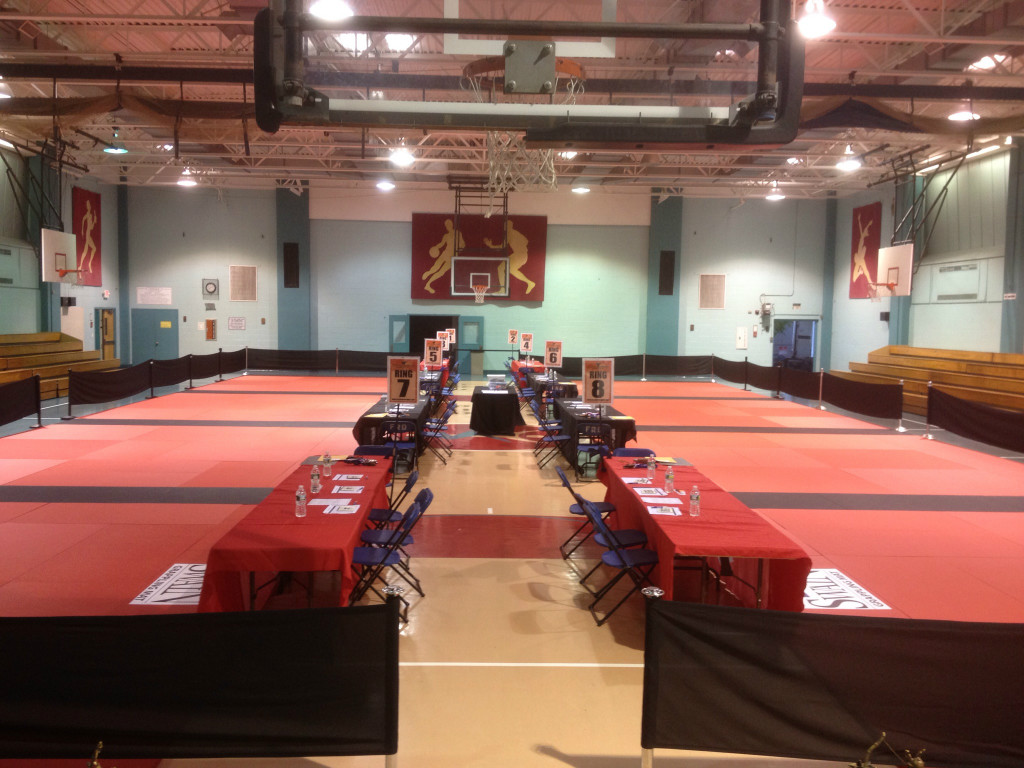 "Just wanted to take the time to thank you again for a really great event. We are happy to be participating with your organization. Got some good wins and we also got some losses yesterday but all in all I have to say, the judging is very fair, everybody takes an interest to the students, and it's a nice change. I know you are always striving to make the organization bigger and better and you're going in the right direction." - Hanshi Jim Smith
"I haven't been to a tournament in a long while because they become more trouble then they were worth, but after yesterday's event it totally changed my mind. Thanks for everything! " - Sifu Evans
"Check this out -great site, organized tournaments - I'm thrilled to be a part of it - Renshi Troy
"We love attending your tournaments. You have a organization and we like that. Your staff are great. Your judges are great and fare with everyone. We have been to many tournaments and yours have been the best. Thank you again." - Mrs. Iovino
As Always the best run tournaments ever. I always have a good experience because the NYTOURNAMENTS are always organized and they keep all the rings moving no delays! 1st in fighting and overall Grand Champion in Men's Fighting. I highly recommend your tournaments. If anyone wants a fair and positive experience, they should come to your Events. - Mel, Grand Champion Rated #1 in NYT
Had a *great* time this past weekend - got to meet some fellow "old timers" in the BB 40+ division, and had a chance to try out two routines for the first time. NY Tournaments runs a tight ship, and respects the competitors by being on-time with divisions and providing well-trained judges. Schedule permitting, I'll be back for the next one in October! - Chris Jurak
Very well run tournament -always appreciate the excellent time management, it is not like the others where you sit around all day not knowing when you are going on. Sheldon Howard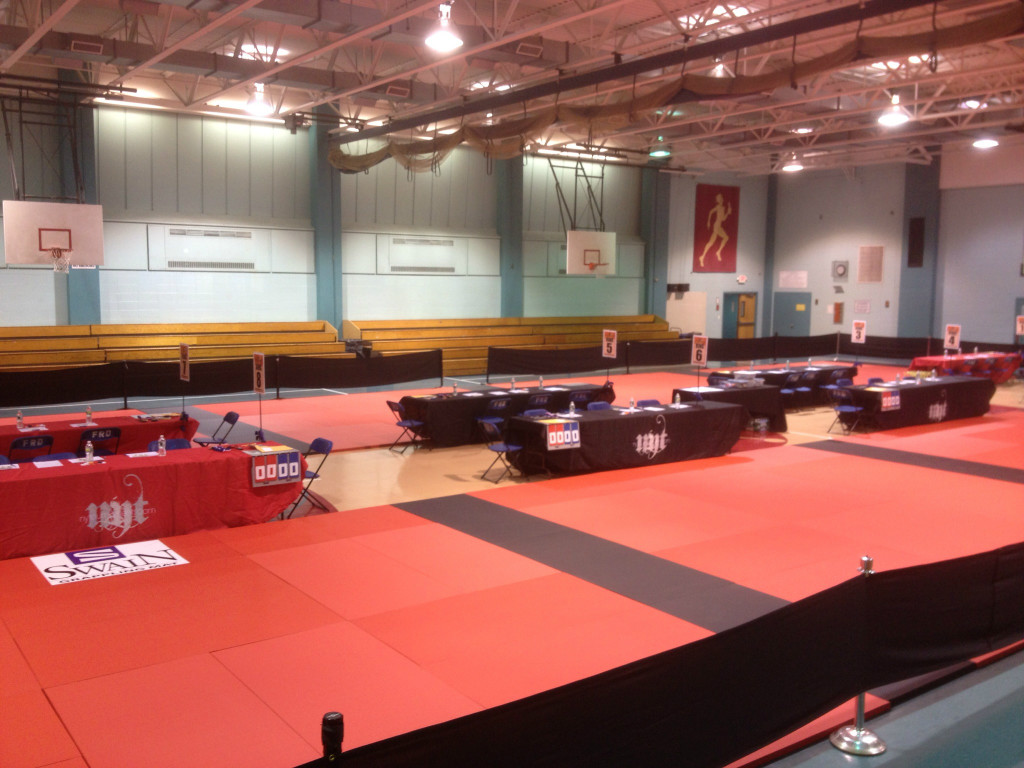 With the success of www.NYTournaments.com
there have been many inquiries to use our logo and tournament guidelines.
The only tournaments that are officially endorsed are listed
on this site in our upcoming events section.
If you are a tournament promoter and wish to work with us, email us.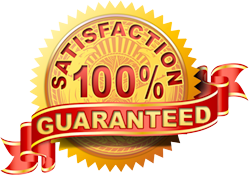 © 2014 NY Tournaments- all rights reserved
© 2014 Taking it to the Next Level - all rights reserved
© 2014 Eliteinsites.com - all rights reserved